The importance to the funnel model to optimize sales teams.
The sales funnel is a graphical model that displays the conversion process of contacts into sales or leads.
The biggest concern of sales team leaders is when they are unable to implement their capabilities. In this article, we will analyze this model to gain new customers. While it might look complex, the process to convert contacts into effective clients is quite simple and capable of generate results to any sales team.
In general, not forgetting the main goal of establishing a wealthy team, it is important to create a path to get your ROI (Return on Investment) results. In each phase of the process, you will experience rejection- the percentage of not interested people. The lower the bounce rate, the lower the team's effort to achieve goals.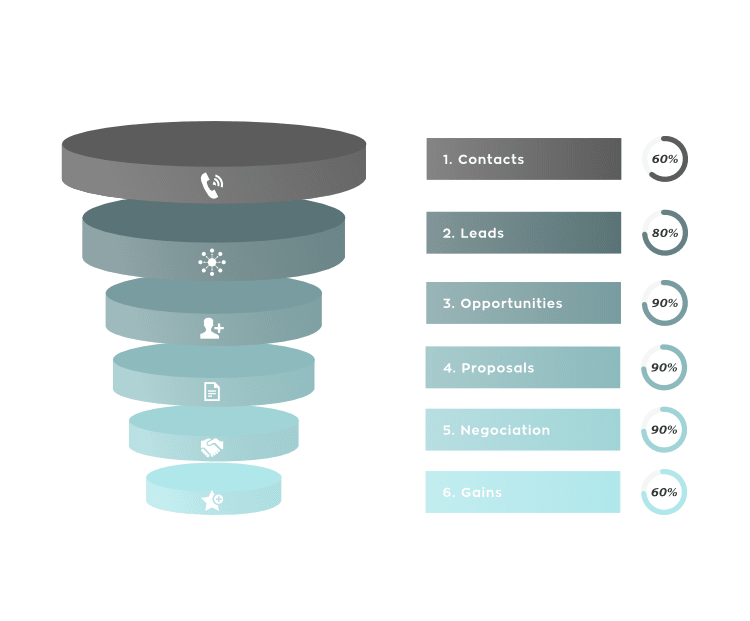 For a better understanding, I created this hypothetical case of soliciting clients for a very easy product to consume:
Contacts
The sales team contacts 1000 companies of a real list of contacts. The sales representatives must be highly trained to, with easiness, reach the decision makers.
Leads
The call center operators can extract 600 leads from the contacts made, while 40% refused to go further.
Opportunities
It was possible to qualify, for proposal, 480 of the contacted companies.
Proposals
From the 480 companies open to be qualified to receive a proposal, only 432 gave the data needed so the representatives could send them the proposal.
Negotiation
As expected, not all companies accepted to discuss the proposal. In some cases, some companies go unresponsive in this stage. We have now around 390 companies on a negotiation process.
Wins
This is the moment of truth. The team just got 350 new clients from 1000 contacts made, while the remaining 650 could be contacted again after 6 months.
With this sales funnel model, we now know we will need to make 3 contacts to get a new client. Once you have the formula to your business, your team will be ready.